Antique Art Deco Lamps and Lighting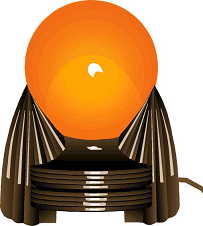 These days art deco lamps are probably the anchor of my collection. I seem to be drawn to vintage lamps and lighting like a moth to a flame. There's something about the glow of an antique lamp on a dark night which seems to be extremely soothing and welcoming. They can transform the atmosphere of any room. Our apartment may lack many things, but lamps are not one! Among my favorite manufacturers are Frankart, Nuart, Ronson, and Betty Beck.
I strive to keep my lamps as original as possible in all respects, but if the enamel is too far gone I will refinish. When that becomes necessary, I strip the lamp all the way down to bare metal, finely sand, then refinish with multiple powder coats of enamel. The shades are always the correct vintage, and whenever possible, are original to the specific lamp. I really try to describe each lamp as accurately as possible, and in doing so I may be overly critical.
All lamps are rewired for safety, but I use original sockets, and bakelite plugs and switches if at all possible. because I do use original parts, we always recommend that any lamp you purchase be checked by a professional for safety.

L199
L198
L197
L194
L195
L196
L193
L192
L187
L189
L186
L185
<!.--// Row Four --->
L175
L174
L171
L163
<!.--// Row Five --->
L151
L147
L140
L137
<!.--// Row Six --->
L138
L133
L129
L105
Art Deco Antique Lamps