!..art deco lamps art deco lighting deco lamps art deco clocks art deco graphics art deco lamp shades art deco glassware art deco antiques art deco collectibles-->



I have been an antique lover since my early teens. I began collecting many, many years ago, and when the internet came along I found my niche in life. Not only can I visit a hundred antique shops a week, I can finally follwo my dream and sell the pieces I've always loved. My tastes are constantly shifting and evolving, and I want my site to do the same. I strive to obtain the best possible examples of the pieces that intrigue me.
I work to keep the site interesting and easy to navigate; and I do my best to accurately describe each item. Some people think my tastes are a little on the weird side, and they may be right, but as far as I'm concerned, weird is interesting.
Bottom line is, I'm hoping that you'll have some fun, look at some nice collectibles, and maybe buy a piece here and there. I try to have something for every taste and budget, but if you don't see what you like please keep checking back or take advantage of our special request service.
We're very sorry, but please don't ask us to appraise or identify your treasures. We get so many requests that it would be impossile to answer them all, and we do have other jobs. There are other sites on the internet that do this for a small fee, but we just don't have the time or the resources. We hope you understand. One last thing: please, please, please take the time to read descriptions and dimensions carefully, so that you'll know exactly what you're getting. You should also read the rules page for information on shipping, returns, and terms.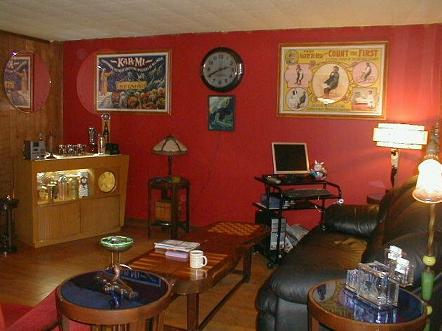 These are a few of my favorite things