Vintage Betty Beck Lamp - L168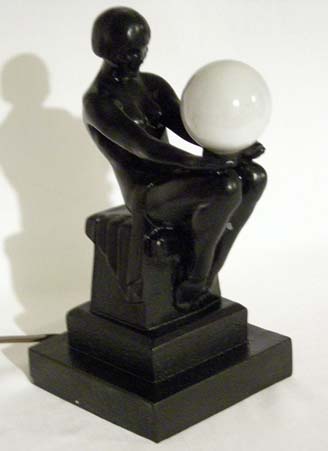 This is a unique and rarely seen Betty Beck lamp. Betty didn't have a very long career, but she still has a very loyal following to this day. Her lamps are difficult to find, but well worth the effort. It's been 5 years since we've had this particular lamp. Marked 'Betty Beck 1930' on back, this one is in very good condition and one of her nicest forms. The metal is free of visible damage, cracks, dents, etc. The socket and wiring were replaced for safety reasons. The original cardboard bottom was recovered with fresh felt, and she was obviously refinished at some point and shows only minor wear.

The bulb is very special! This is a vintage orange florescent bulb, and nearly impossible to find. Highly unusual and just perfect for this lamp! It appears that she's holding the moon in her lap and gazing into it! The bulb won't last forever, but the socket takes any candelabra sized bulb. We just really really liked the effect of this one, you could replace it with any other kind if you like. All in all a truly stylish and tasteful pose, and a real treasure!
Sold
Specifications
Overall Height
9.5 Inches
Base Length
4.5 Inches
Base Width
5 Inches


| Home | Contact Us | Order | Shipping Information |